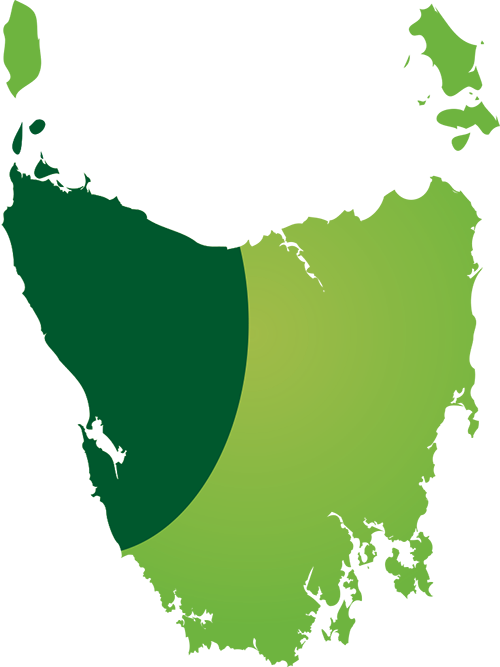 The west is rich in majestic forests and wild landscapes, with a vast amount of this region being World Heritage protected area. The long-term effects of mining in this region are most evident in Queenstown, with its distinctive landscape. On the banks of the Macquarie Harbour is the town of Strahan, the gateway to the majestic Gordon River, ancient rainforests and the Sarah Island convict settlement.
Devonport is the departure point of the Spirit of Tasmania ferry, and has the Tiagarra Centre – a great source of information on Tasmanian indigenous history.
The Great Western Tiers is abundant in local produce centres, which are open to the public. Enjoy spectacular scenery and learn about the glow-worms at the unique Mole Creek Caves. Latrobe is the platypus capital of the world, with the Platypus Interpretation Centre at the Axeman's Hall of Fame.
Between the two large geological features of the Nut at Stanley and Table Cape in Wynyard, is Rocky Cape National Park, rich in aboriginal history, wildflowers and popular for bushwalking, diving and snorkelling.
Deserving mention is the nearby Tarkine Wilderness – the largest temperate rainforest in Australia. Cape Grim in the far north west is known as the edge of the world has officially the cleanest air in the world.
The iconic mountainscape of Cradle Mountain is one of Tasmania's most visited attractions, and is popular for bushwalks and kayaking.
For in-depth information on the regions of the West, North West and Cradle Valley please click on the links below: