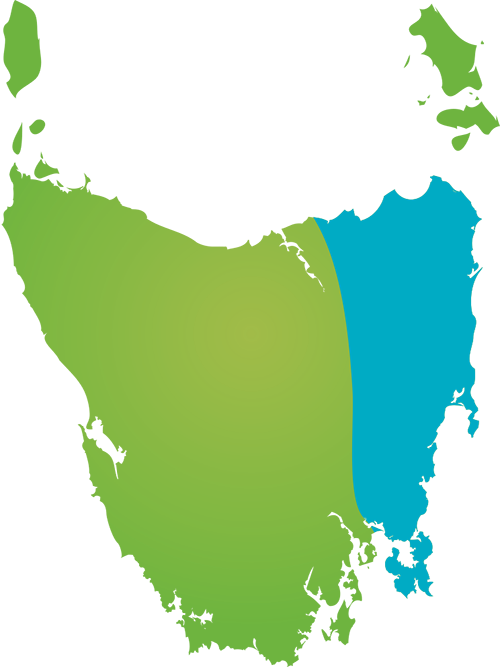 Sparkling beaches dominate the coastline of Tasmania's East Coast and include the world famous Bay of Fires and Wineglass Bay. The scenery is a photographer's dream, with the pink granite 'Hazards' at Freycinet being especially noteworthy. Bushwalkers will find great walking trails at Douglas Apsley, Mt William, and Freycinet National Parks. Sample the delicious produce the vineyards and berry farms have to offer. The crayfish, scallops and oysters from the East Coast are some of the best seafood produce you will find in the world.
South of the Freycinet Peninsula is Maria Island National Park, which is rich in aboriginal and convict history, and features incredible scenery, including native fern gullies and fossil studded sandstone and limestone cliffs.
Evandale, Ross, Oatlands, Bothwell and Richmond are charming historical towns along the Midlands Highway (A1), each notable for their wonderful architecture, historical significance, and picturesque cottage gardens. Campbell Town has the convict brick trail and Ross houses the Female Convict Station. Richmond is the epicentre of Tasmania's history with Australia's oldest bridge, convict gaol, and practising Catholic church.
In the far south east is the Tasman Peninsula, best known for the Port Arthur Historic Site and convict coal mines, which offer an intrinsic display of our past.
The natural beauty of the Tasman National Park contains deep sea caves, and some of the highest and most spectacular sea cliffs in Australia.
The Devil's Kitchen, Blowhole, Remarkable Cave and the Tessellated Pavement are intriguing natural formations that show just how unique Tasmania is.
For in-depth information on the regions of East & North East, Tasmanian Midlands and the Tasman Peninsula, please click on the links below: